Day 0
Let's talk about what this is and who I am
Hello! I'm so glad you decided to take the time to read this! I'd like to introduce you to #pretzel2018 and myself, Richard Blechinger - commonly known as pretzelhands. So grab a drink, sit back and let me tell you a few things!
What is #pretzel2018?
#pretzel2018 is basically a new year's resolution that my mind ran wild with. A few contributing factors led to its inception. I've wanted to start a campaign to extend my personal brand, I wanted to get into blogging, my website needed a refresh and I've always wanted to generate some side income. And now we're here!
The main goal is to develop an app or service that generates at least 50 USD per month by the end of 2018. This would be enough to cover my monthly "treat" costs. Those are the money I spend every Friday on some tasty food, say pizza, a burger or something like that. It's basically my cheat day.
So, really, the goal is to pay for fast food. Maybe not the most noble goal, but we all have to start somewhere.
What service will you be building?
That.. is a good question! To be fair, I don't have much of an idea yet. I know of different approaches to generate ideas, but scratching my own itch doesn't work that well, since I'm happy with my workflow as it is. So I'm currently on the lookout for a problem that I can solve for somebody else.
I have two rough ideas in my mind that I've been considering, so feel free to evaluate those and give me feedback as you see fit. This is an open process and I very much invite you to take part!
My ideas:
A suite of "zen"-esque tools that help you focus on tasks on at a time
A management tool for pitching to the press quickly and efficiently
My first idea is inspired mostly by Tim Holman's ZenPen which I use for almost all of my writing. It's an incredibly focused environment that just helps me get things done quick. This post was written out on ZenPen as well!
The second idea stems from Rami Ismail's distribute(), but it would be geared more toward general business. The ideal end product would allow you to avoid manually hopping from outlet to outlet in search for a "Send us a tip" form. You would get notifications for pitches that have received answers and pitches you might want to follow up on and all such things.
If you have any other suggestions or would like to discuss the idea finding process in general, feel free to send me a message on Twitter or send an email to hello@pretzelhands.com!
Who is the person behind this?
Glad you asked, dear reader. I'm Richard, 20 years old, Austrian by birth, and full-time freelancer. I began my career as a freelancer back at the start of 2017, so it's been exactly a year. This first year wasn't always easy, but at the end of it all I've come out with a solid set of clients and enough revenue to keep me going.
My technical background is not quite what you would probably expect. I never went to college. I don't even have the Austrian equivalent of a high school diploma. When it comes to academics all I can offer is finishing 9 years of primary schooling, an apprenticeship and another 4 years of vocational school.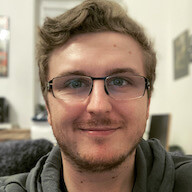 What I look like
I was never taught what a binary tree is, nor why I should care about it. Most of my programming knowledge I've taught to myself in my spare time. And I've started with that around the beginning of 2012. I picked up my first job as a web developer in October 2013. And that's all the credentials I had, before I started freelancing. Nevertheless I've worked with clients such as the Economical University of Vienna to visualize material flows across the world.
Personally, I think a degree is a nice-to-have, but not a requirement. I've just always hated the idea of traditional schooling. Being preached to by a person that's standing in front of me is the most boring way I can possibly imagine to learn about things. But alas, this is how it is at the current point in time. Maybe the future holds more interactive forms of teaching and learning.
So to sum it up: I'm not your typical mid-twenties graduate bro in the valley searching for VC funding in hopes of making it big. I'm just a regular guy. Nothing more, nothing less. For what it's worth, I've never even set foot in the United States!
If there is anything else you would like to know, please post a question in my AMA repository! I welcome questions of all kind, so don't be shy!
Final words
That should wrap it up for the introductory post! It's gotten longer than expected, anyways. I hope you enjoyed it and that you will follow me along on my journey to bootstrap a service from zero to fifty dollars. It should be a fun ride!
If you'd like to have a chat, my social profiles and email can be found below as well. Don't be shy, say hi!